Dress Rehearsal, 2019

The Dress Rehearsal is a performance-installation where video, sculpture and performance come together. The visitor steps into a dark landscape where geometrical broken and deformed videos are the only light source. The videos show figures dressed in uniforms that change outfits in a static choreography. They hand each other their shoes and jackets and tie their laces. They seem to transform their identity in a cold and awaiting way. In the middle of the room there are two sharp wooden structures with white curtains, two giant room dividers. The transforming figures appear and disappear. Their image breaks and lands on their surroundings: the white walls, a passing visitor, the windows, breaking the light again.




Credits:
performed by Nina Meijer, Stan D'Haene, Maurane Colson, Vincent Van Dijck, Tim Verherstraeten
filmed by Ruby Water
photographed by Elli Vassalou
dramatury by Stefaan Dheedene
Shows:
03.06.2019 – try out, Nacht van de Mode, Arnhem, NL
26-31.06.2019 – Congratuations, Graduation exhibition, KASK Gent, BE
16-18.08.2019 – Art United, Pukkelpop & S.M.A.K., Kiewit, BE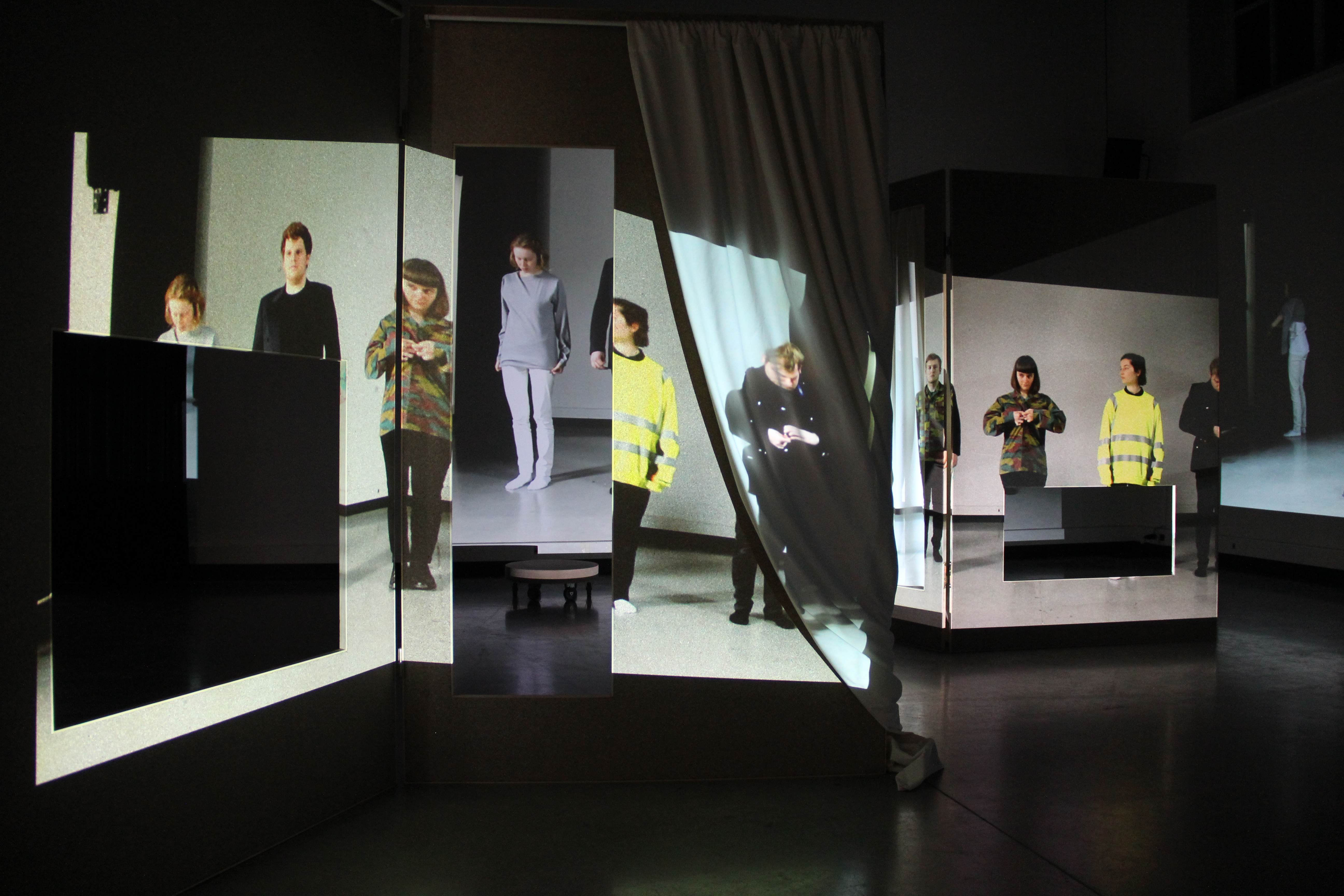 Meanwhile a performer enters the room. He is dressed in an outfit from the LOOK BOOK and catches the projection with his costume. In this way he is in the possibility to create new compositions. He follows a figure from the video and mimics its movements. In the meantime more performers have joined him, they came from the dressing room where the costumes are on display and visitors can observe the spectacle from an observational perspective. The performers are demanding their space, they pose and turn around on pedestals on wheels. They change the installation into their workspace with an open front- and backstage, they discover new effects and relations with every performance.

Since the characters of the performers play a constructing role in the piece, their input needs to be mentioned when discussing the Dress Rehearsal. Nina Meijer, a landscape architect, creating sisterhood with videofigures and the other performers. Stan D'Haene, an artist active in graffiti, brings circulair speed and bounces light from his bald head. Maurane Colson, a curator and feminist fashionista, experimented with costumes, posing and archetypical millennial behaviour. Vincent Van Dijck, a digital designer, bringing dynamics and distortion into the space. Tim Verherstraeten, an artist and magazine editor-in-chief, created intimate brigdes between the viewer and art historical imagery.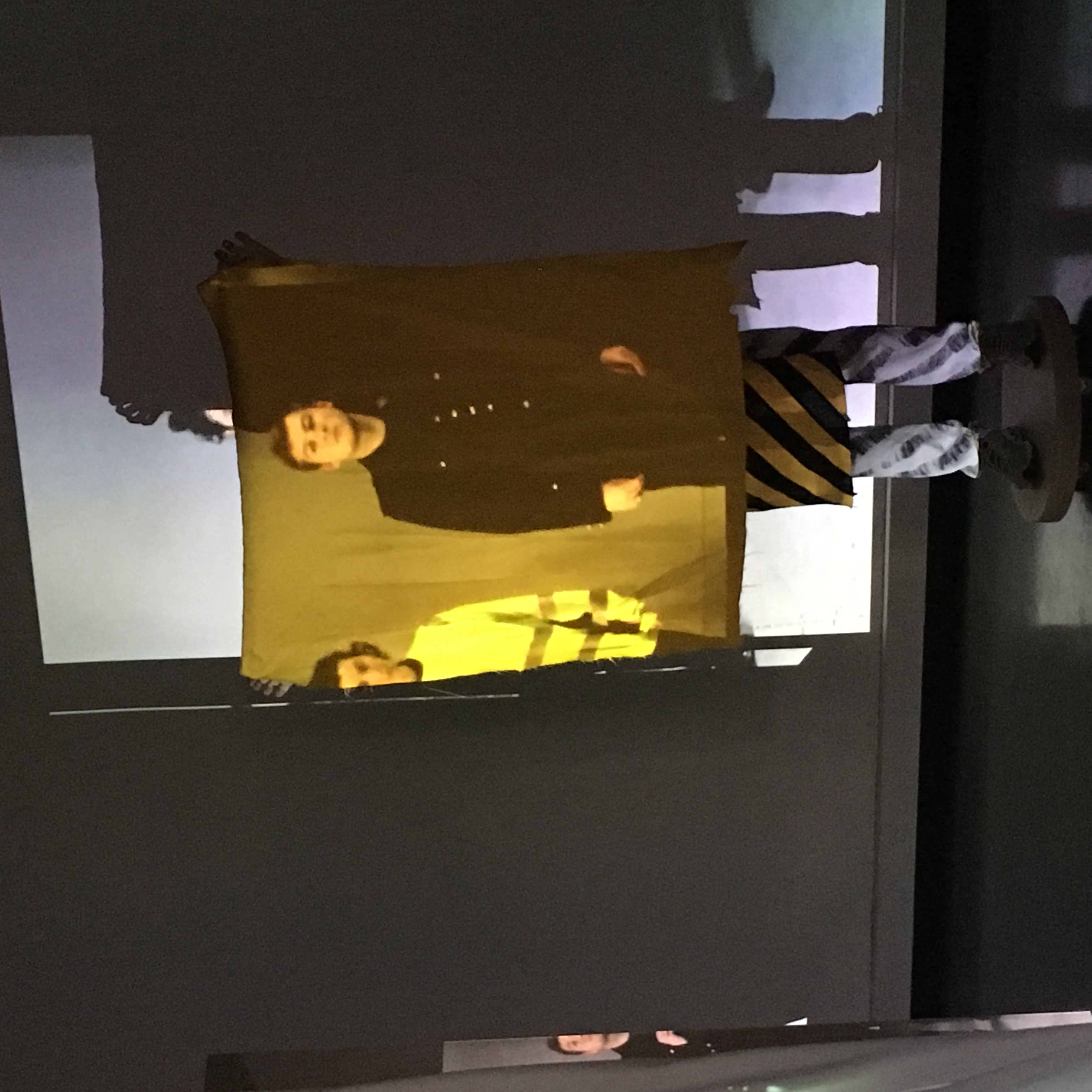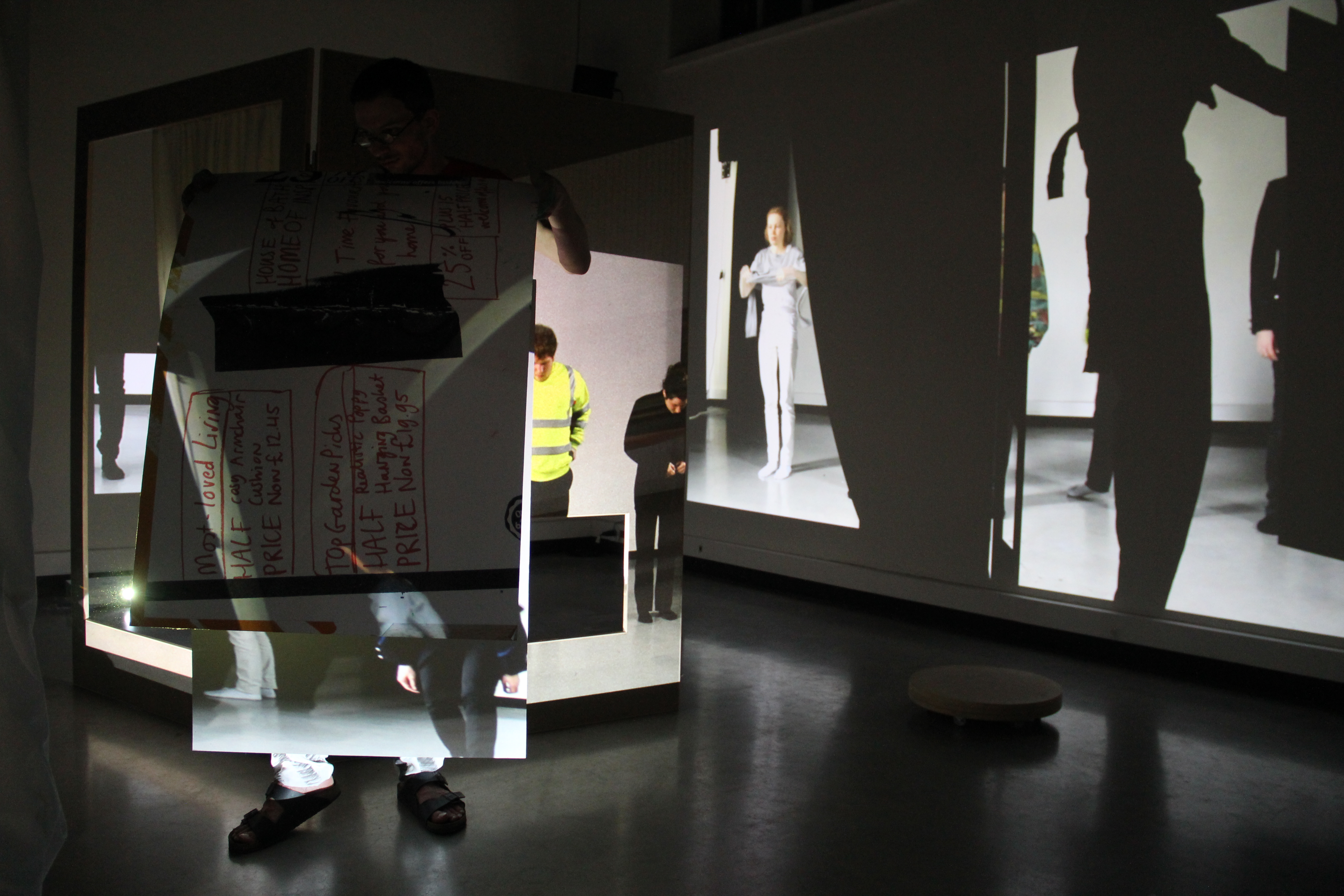 Performers in action.
Performers in action. Recorded by Ruby Water.
The dressing room. This is where items of the LOOK BOOK are on display and performers change their outfits. Audience can observe the installation through the window of the control room.
The recorded rehearsal that was projected onto the wooden paranvan screens.